BookishlyRebecca is now the host of the "My Favorite" meme, a weekly meme posted on Wednesday. Originally started by Maureen's Books, she agreed to let me take over.
As Maureen described it, "In this meme, we share every week something we love with each other. Because let's face it. The world can be a dark place and it's to share something positive. Each week I will post a new My Favorite.. post about one subject and I'll tell you all about it. And the best part? Everyone is welcome to join. The only thing you'll have to do is sign up on my weekly post, link back to this post and visit others."
At the end of each month, I'll post the prompts for the following month so be sure to check back then!
I think everyone could guess what my favorite book to movie adaptation would be... I decided to do this small post today. I don't have a lot of time to get things done as we are going to a funeral today. I'm trying to stay in a positive mindset today.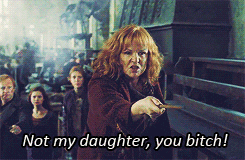 Harry Potter and the Deathly Hallows (Part Two) is my all time favorite book to movie adaptation. It just makes me so freaking emotional and breaks my heart into so many pieces. Anything about the Harry Potter franchise will most likely be my favorite anything. You shouldn't be shocked that I chose one of these movies as my answer.

What is your favorite book to movie adaptation?